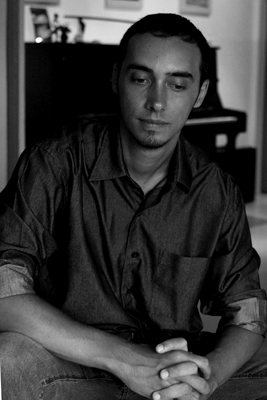 Felipe Senna
BMus (Hons), MA Music (Distinction)

Son of a Dentist and a housewife, Felipe Senna was born in São Paulo in 1979. Showing particular interest for his grandmother's piano since his very early years, he began his musical education at the age of 6. Surrounded by music lovers and amateur players in his German-Brazilian family, Senna was the first to follow the path professionally, initiating his career as a pianist and music instructor with 14 years of age. He graduated in Composition and Conducting by Unesp-the State University of São Paulo (2002), winning a scholarship from FAPESP (São Paulo Research Foundation) from their Scientific Initiation program.
Senna has performed as music director, arranger and pianist with important names of Brazilian music, such as Toquinho, Claudete Soares, Jane Duboc and Cibele Codonho, Grammy winner Airton Moreira and Grammy nominees Nailor Proveta and Filó Machado. Claimed by international critic "an exciting new discovery at the realms of piano soloing" (Martin Longley, Spannered-2007), he founded the Brazilian jazz Trio Quatreta (2003) and, alongside percussionist Marcelo Costa, the Na Corda Bamba duo (2004) – currently based in France.